Background, qualification and experience make GNS Teknik always give on-target solution
PT GNS Teknik is a company active in mechanical, electrical, AC installation services and other technical works. Observing its history, since its establishment in 1997, PT GNS Teknik has executed various project types. From residences with simple installation to apartments (fit out), office buildings, theaters/Cineplex, warehouses and even more complicated installations such as those of factories, production chamber installation in pharmaceutical industries and many more.
The suitable background and qualification in technical sector, and having lived through years of experience in handling minor to major scale projects, make PT GNS Teknik clearly understood its clients' needs and always gives on-target solution.
Why GNS Teknik?
The increasing amount of technical contractor service companies is not comparable to the level of quality given. Disorganized installation becomes common, and gradually it is considered as normal. Whereas any work not complying with the standard procedure will cause loss to customers, that will have the potential to reduce the durability of the installation, production capacity, comfort and occupational safety, which will harm the clients in terms of resources and financing.
HAVING AND COMPLYING WITH THE STANDARD PROCEDURE
PT GNS Teknik always utilizes and complying with the standard procedure for each work performed, from planning, material purchasing, delivery to location, to the utilization of the materials. Materials not yet installed are protected from damages and are maintained well, that at the time of its installation, all are in good condition.
RELIABLE HUMAN RESOURCES
There are no optimum results without reliable manpower. In order to maintain the tradition of optimum work quality, PT GNS Teknik always pays attention to the advancement of its human resources, as the main actor in this matter. Occupational training is given to the executors on site, from principal and supplier. All is done to create reliable human resources, who completely understand what standard to be executed, and how to work on it professionally, from preparation to post-production. The entire efforts are evidence that PT GNS Teknik consistently holds its commitment firmly towards quality.
The supervisors of PT GNS Teknik have over 5 years work experience and its construction executors have worked in this company for 8 years in average.
.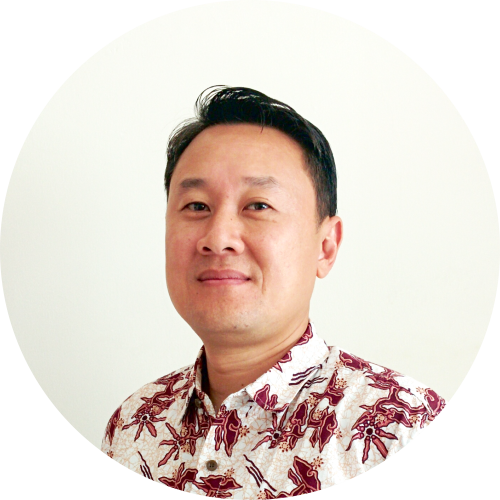 Hendy Gunawan
Director of PT GNS Teknik
Born in Purwokerto in 1970, he grew up in Jakarta. He completed his studies in Aerospace Engineering in the University of Alabama, United States. He joined Cathay Pacific Airways for three years as Ground Engineer, and was sent to Air New Zealand for 1 year to obtain additional education on Airbus 330/340 and OJT (On the Job Training).
In 1996 he started working in construction business, specifically the Mechanical and Electrical works. His vast knowledge and experience in technical during his education and working periods exceptionally helped him in working on his works in construction. In 1997 he officially established PT GNS Teknik which has developed until now.
Cooperation
If you are interested to cooperate with us, send your information on the cooperation and we will immediately contact you.
Contact GNS TEKNIK
Integrated Services
We are working on almost all of project scales, starting from residences to warehouses, factories and office buildings.
GNS TEKNIK Services